SNEC 14th (2020) International Photovoltaic Power Generation and Smart Energy Exhibition & Conference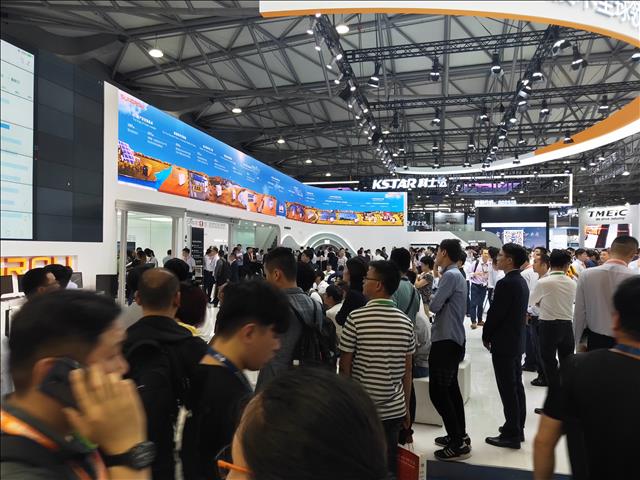 May 25-27, 2020
Shanghai New International Expo Center
(No. 2345 Longyang Road, Pudong District, Shanghai, China)
An Event Leading You to the Fast Growing Asia PV Markets
Approved by
Shanghai Municipal Commission of Commerce
Supported by
Shanghai Municipal Development and Reform Commission
Shanghai Municipal Commission of Economy and Informatization
Science and Technology Commission of Shanghai Municipality
Initiated and Organized by
Asian Photovoltaic Industry Association (APVIA)
Chinese Renewable Energy Society (CRES)
Chinese Renewable Energy Industries Association (CREIA)
Shanghai Federation of Economic Organizations (SFEO)
Shanghai Science & Technology Exchange Center (SSTEC)
Shanghai New Energy Industry Association (SNEIA)
Co-organized by
International Solar Energy Society (ISES)
Solar Energy Industries Association (SEIA)
Japan Photovoltaic Energy Association (JPEA)
Asia Pacific Photovoltaic Industry
Council (APPIC)
New Energy Industry Association for Asia and the Pacific (NEIAAP)
China Chamber of Commerce for Import and Export of Machinery and Electronic Products (CCCME)
China Photovoltaic Society (CPVS)
Renewable Energy Professional Committee of China Energy Research Society
National Solar Energy Federation of India (NSEFI)
Taiwan Photovoltaic Industry Association (TPVIA)
Korea Photovoltaic Industry Association (KOPIA)
Malaysian Photovoltaic Industry Association (MPIA)
Solar United
Middle East Solar Industry Association (MESIA)
Saudi Arabia Solar Industries Association (SASIA)
Solar GCC Alliance
Pakistan Renewable Energy Society (PRES)
Iran Renewable Energy Association (IrREA)
econet china | German Industry & Commerce Greater China
Exhibition Managed by
Follow Me Int'l Exhibition (Shanghai), Inc.
Shanghai Xuntai Exhibition Service Co., Ltd.
Shanghai Solarcloud Exhibition Service Co., Ltd. Follow Me Int'l Exhibition USA Inc.
Conference Managed by
Preface:
SNEC 14th (2020) International Photovoltaic Power Generation and Smart Energy Exhibition & Conference [SNEC PV POWER EXPO] will be held in Shanghai, China, on May 25-27, 2020. It was initiated by Asian Photovoltaic Industry Association (APVIA), Chinese Renewable Energy Society (CRES), Chinese Renewable Energy Industries Association (CREIA), Shanghai Federation of Economic Organizations (SFEO), Shanghai Science & Technology Exchange Center (SSTEC), Shanghai New Energy Industry Association (SNEIA) and jointly organized by 23 international associations and organizations including Solar Energy Industries Association (SEIA).
The exhibition scale of SNEC has evolved from 15,000sqm in 2007 to over 180,000sqm in 2019 when it attracted over 1,800 exhibiting companies from 95 countries and regions all over the world and the overseas exhibitor ratio is over 30%. SNEC has become the biggest international PV tradeshow with incomparable influence in China, in Asia and even in the world.
As the most professional PV exhibition, SNEC showcases PV manufacturing facilities, materials, PV cells, PV application products & modules, PV project and system, energy storage and mobile energy, covering every section of the whole PV industry chain.
The SNEC conference consist of various programs incorporating different topics, covering the market trends of PV industry, collaboration and development strategies, policy directions of different countries, advanced industry technologies, PV finance and investment, etc. It is an opportunity that you cannot miss to stay up to date on the technology and market, present your results to the community, and network with industrial experts, scholars and entrepreneurs and colleagues.
We are looking forward to the worldwide PV industry friends gathering at Shanghai, China. From the industry's viewpoint, let us take pulse of the PV power market of China, Asia, and the world, so as to guide the innovative development of the PV industry! Hope all of us meet at Shanghai, on May 25-27, 2020!
Schedule:
Move-in Dates: May 22, 2020 (13:00-18:00)
May 23-24, 2020 (9:00-22:00)
Show Dates: May 25-27, 2020 (9:00-17:30)
Move-out Date: May 27, 2020 (15:00-22:00)
Exhibits Category:
● Production Equipment: Solar Ingot / Wafer / Cell / Panel / Thin-Film Panel Production Equipment
Category Description:
Companies that manufacture equipments used to make solar ingots/blocks, wafers, cells or panels (/modules), including:
Ingot/Block Production Equipment: turnkey systems, casting/solidification equipment, crucibles equipment, pullers and other related;
Wafer Production Equipment: turnkey systems, cutting equipment, cleaning equipment, inspecting equipment, and other related;
Cell Production Equipment: turnkey systems, etching equipment, cleaning equipment, diffusion equipment, coating/deposition, screen printers, other furnaces, testers & sorters, and other related;
Panel Production Equipment: turnkey systems, testers, glass washing equipment, tabbers/stringers, laminators and other related;
Thin-Film Panel Production Equipment: amorphous silicon cells, CIS/CIGS, CdTe and DSSC Production Technical and Research Equipment.
● Solar Cells/Panels (PV Modules): Solar Cells Manufacturers, Solar Panels (/Modules) Manufacturers, PV Module Installers, Agents, Dealers and Distributors, CPV and Others
Category Description:
Companies that manufacture solar cells/panels (/modules), including the companies that simply sell or distribute solar cells/panels (/modules) and the companies using OEM/ODM.
● Components: Batteries, Chargers, Controllers, Converters, Data Logger, Inverters, Monitors, Mounting Systems, Trackers, Others
Category Description:
Companies that supply products (apart from solar panels/modules) required for a functioning grid-connected or off-grid solar power system.
● Solar Materials: Silicon Materials, Ingots/Blocks, Wafers, Glass, Film, Others
Category Description:
Companies that supply materials required for the manufacture of solar cells, solar panels (/modules), etc.
● Solar Products: Lighting Products, Power Systems, Mobile Chargers, Water Pumps, Solar Houseware, Other Solar Products
Category Description:
Companies that manufacture products that use solar products or panels.
● PV Projects and System Integrators: PV system integrators, solar power air conditioner system, rural PV power generation system, solar power measurement and control system, solar power warming system projects, PV projects programs control, engineering control and software system
Category Description:
Companies that design and sell complete photovoltaic systems in buildings (panels installed on buildings) or in solar power plants, and companies that install panels/modules.
● LED Technologies and Applications: LED Illumination, LED Applications, LED Display/ Digital Signage, Components, Manufacturing, Testing equipment.
Category Description:
Companies that supply materials, technologies and equipments that required for the manufacture of LED illumination, LED applications, LED Display, etc.
● System Construction and Safety Protection Equipment: power plant construction equipment, vehicle, machinery, maintenance tools, overhead working truck/platform, scaffold, electrical safety equipment, safety protection products.
● Solar Thermal Power System: parabolic trough system, tower system, dish system, absorber tube, storage device and related materials, heat exchange/transfer technology and product, system control.
● Solar thermal applications: solar central water-heating system, household solar water heater, solar heat pump water heater, related production equipment, material, component, etc.
● Others
Solar Energy and Green Building
● Building Developers and Designing Companies: Construction and building engineering companies, real estate developers, building designers/teams, colleges and universities, and consulting, certification, designing, research, testing service, etc. institutions
● Solar Energy and Green Building Related Materials and Equipment
a) Solar Thermal Applications: solar central water-heating system, household solar water heater, solar heat pump water heater, solar heating system, BIPV solar products, related production equipment, material, component, etc.
b)Solar PV/ Thermal Power Systems, Equipment and Products: grid-connected PV power system, off-grid PV power system, PV and wind complementary power system, PV power transmission and distribution equipment, parabolic trough system, tower system, dish system, absorber tube, storage device and related materials, heat exchange/transfer technology and product, system control.
c)Solar Components: solar complementary automatic control devices and meters, solar pipe fittings, solar control systems, solar heat pipes, vacuum tube collectors, flat plate collectors, project conjunction boxes, thermal insulation materials, hot and cold water pumps, holders, PV equipment components, solar cells and other related production equipment, components and materials.
d) Other Solar Products: solar cooling products and systems, solar ground-heating products and systems, air products, solar central air-conditioning, ground-source heat pump air-conditioning and other new energy technologies which can integrate perfectly into buildings.
Energy Storage Technology and Smart Grid
Exhibition Rates:
·Standard Booth (3m×3m)
Price: US$3500/booth (AREA I, AREA II); US$3200/booth (AREA III, AREA IV)
Basic Facilities: one information counter, two folding chairs, one wastepaper basket, one 220V/500W/10A power socket, two spotlights, one header board and carpet inside of the booth.
·Indoor Raw Space (≥36m2)
Price: US$350/m2 (AREA I, AREA II); US$320/m2 (AREA III, AREA IV)
Procedures of Exhibiting at SNEC PV POWER EXPO
http://www.shxinny.com